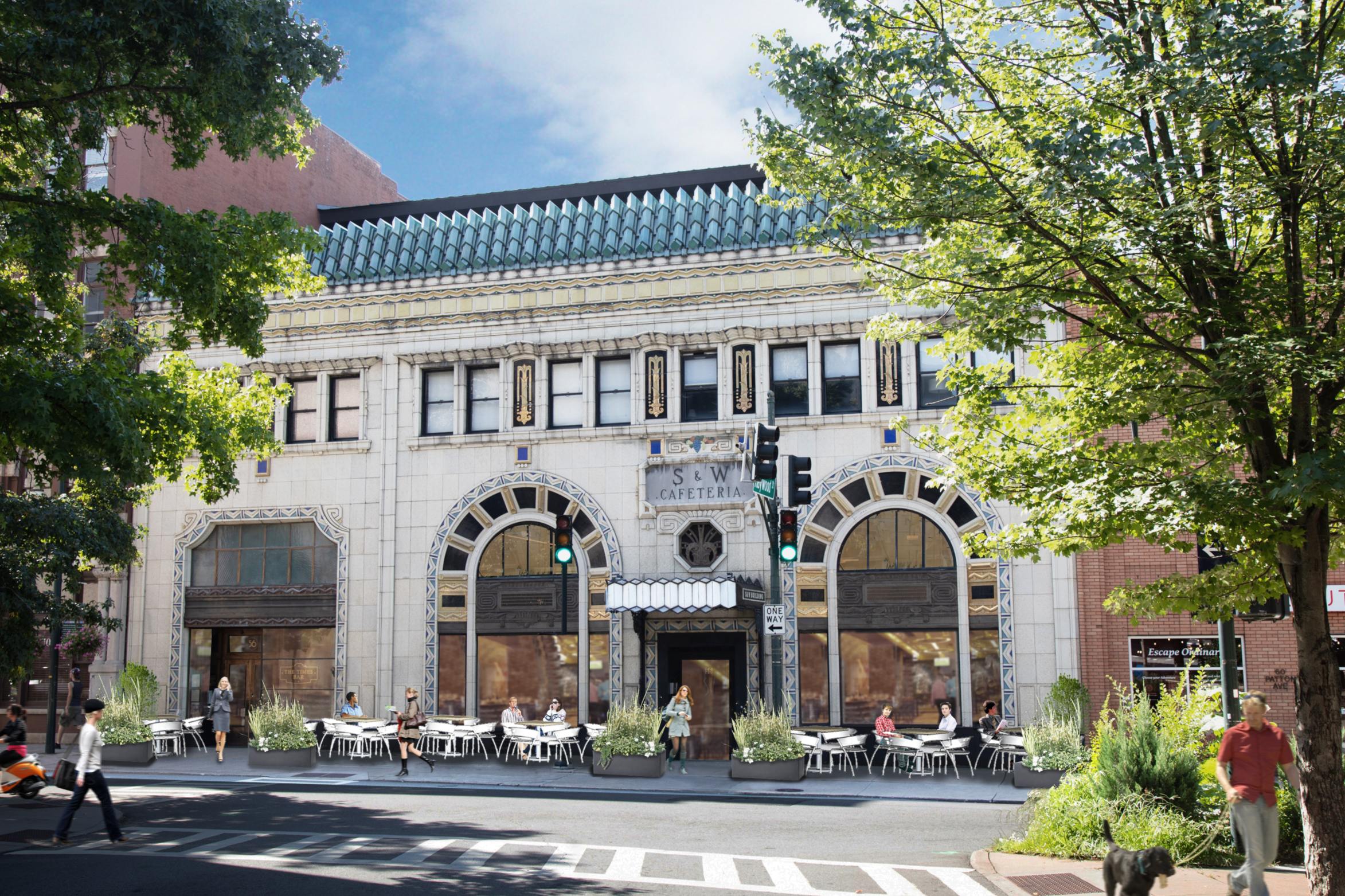 Proud to Announce the Historic S & W Building to Open as a Food and Beverage Hall
October 4, 2019
Asheville's iconic S&W Building will become a food hall focused on the best of local food and beer when it opens as The S&W Market. Ellington Realty Group project is revitalizing the building, located at 56 Patton Avenue, which will become home to a roster of top local restaurants curated by culinary consultant Meherwan Irani of Chai Pani Restaurant Group.
The S&W Market will also welcome Highland Brewing Company back to downtown, where their story began 25 years ago. Asheville's original craft brewery will anchor the two-story space and feature a first-floor bar area and a mezzanine-level bar, tasting room and event space. Highland's founder, Oscar Wong, said, "Highland was part of the rebirth of downtown Asheville back in the 90s along with many others – to return downtown and be part of the rebirth of this iconic building is nothing short of amazing."
Upon entering the building, guests will be greeted with a sampling of flavorful dining options from four Asheville-based food stalls hand-selected for their crave-worthy offerings and ties to the city along with Highland Brewing's main level bar.
On the mezzanine, an expanded lineup of Highland's small-batch, sour, and barrel-aged beer offerings will be featured. The space will have seating for guests to enjoy a pint with their food and a view of the activity below or the city outside.
"I've never had an interest in opening a second taproom," said Highland's second-generation Family-Owner and President, Leah Wong Ashburn. "But this confluence was powerful. We are engaged in revitalizing a piece of Asheville's history and working with an incredibly talented group of Asheville entrepreneurs who all believe in authenticity, family, and having fun with this project."
The feeling is mutual. The S&W was purchased in 2017 by brothers Douglas and Kenneth Ellington, who are the great-nephews of the building's noted architect Douglas Ellington.
"There is a great deal of meaning for us in this particular project," says Douglas Ellington. "We're honored to work alongside Meherwan and the wonderful team at Highland Brewing to create a welcoming space that will enhance our downtown community and revitalize a beautiful historic building that has provided fond memories for many in Asheville."
Listed on the National Register of Historic Places, the revived S&W will serve as an homage to the property's storied past, while also honoring its place within the Asheville community's future. The S&W Building is a celebrated staple among the city's buzzing downtown for its' striking Art Deco style and intricate architectural details.
Much of the time-honored space will remain unchanged, including its familiar facade of wide arched windows and terra cotta panels, accented with richly colored green and blue tiles. A revamped interior will seek to evoke the same
energy of the bustling dining destination that many enjoyed growing up in Asheville and ample sidewalk seating will adorn the building's front.
"With the culinary mecca that Asheville has become, we feel that a food hall focused on the best of local food and beer in the center of downtown will be a huge hit with both locals and out-of-town visitors," says Burns Aldridge, managing broker of Ellington Realty Group. "Food halls have become incredibly popular in the past few years as the consumer demand for authentic healthier yet casual food options has grown. The S&W Market will offer counter service with delicious local food, just as the building was originally intended."
Diana Bellgowan, Architect is leading the project with J & N Construction as contractor. Restaurateurs signed onto the project will be announced at a later date. For more information, call Ellington Realty Group at 828-575-1500.